I'm A Student – Why Should I Vote?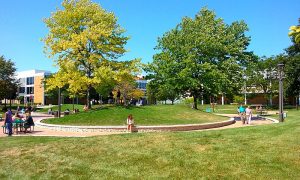 Don't think the election is relevant to you? Here are just a few of the issues that elected officials have been or will be deciding:
Student Loans  – Student loans are the fastest growing segment of household debt in the USA, and it's expected to keep growing as tuition costs rise. Availability, cost, policies, and whether or not you can deduct any of your payments from your taxes once you start working are all issues in which your elected officials have a say.
Campus Sexual Assault and Misconduct Policies – Some are proposing policy changes that would benefit the accused.
Minimum Wage – Yeah, I know – hopefully with a college degree you'll avoid minimum wage jobs, but you never know when you'll need a little extra income or something before or between jobs.
Tuition Costs – There's been a lot of talk about potentially offering somc amount of free tuition at state colleges.  If you're at a state school with a few years to go this is probably of interest to you.
Health Insurance – May not seem important to you now, but accidents and serious unexpected illnesses happen and can be financially devastating if you have no insurance. The ACA allows you to stay on your parents' health insurance until you are 26 – it wasn't always that way, and some are trying to abolish the ACA, which could remove this provision.
Have a pre-existing condition like Asthma? Some politicians want to let insurers deny you coverage or charge you much higher rates.
Insurance costs will be an issue once you need to obtain insurance on your own.  Even if you get coverage through work, these costs get passed on to employees.
Environmental Issues – May not seem that relevant with midterms and finals looming, but someday you will probably want safe food, clean air and clean water for you and your family. Vote accordingly.
Vote for the candidates whose platform is in your best interest!
But I Don't Know the Issues or the Candidates
You know, there's this thing called "Google" that can help you out there! Also, you can get information about the candidates on their own web sites and on your state's elections site.
But don't just listen to us …
Check out this short video of 7 Reasons To Vote from former President Barack Obama – no excuses!
I'm Away at School – How Can I Vote?
Not able to make it home to your permanent address for election day? There are a few options:
Absentee or mail-in ballot – These are the easiest way to vote if you're away at school. You can get these ballots from your state elections resource. But hurry – there is a deadline for requesting one!
Early voting – Home to visit the 'rents the week before election day? Check to see if your state offers early voting. Early voting allows you to cast your vote at designated polling places before election day. Some states also offer flexibility as to where you can vote. Check with your elections office for details.