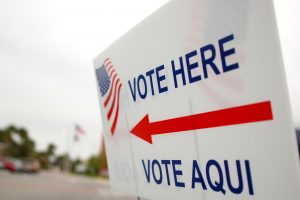 THANK YOU to everyone who gets out to vote today or who voted by mail or early voting – you're what makes this country great!
Voting today? Here are some tips for issues you could encounter, including long lines, voter ID problems, voting machine problems, voter intimidation and other issues you may encounter:
1) Before you go:
Make sure you know your polling location and the type of ID required. Check with vote411.org or your local election board if you need information.
2) Need help getting to the polls?
Both Uber and Lyft are offering reduced-fee or free transportation to the polls.
3) Expect Long Lines
There has been a lot of "buzz" generated about this election and we expect record turnout. Wear comfortable clothing and shoes. Consider bringing a snack and a bottle of water. Depending on your polling place, you may even want to bring a lightweight folding chair.
4) Once in line, STAY IN LINE
Once you're line to vote, stay there!
5) If anyone tries to intimidate you while in line:
Contact polling officials, police, social media, local news, or the voting hotline – 1-866-OUR-VOTE
6) If you get to the polls and you're told you can't vote
Ask for a PROVISIONAL BALLOT. Then be sure to follow up to resolve the issue that prevented you from voting.
7) Use a paper ballot, if you can
Hand marked paper ballots are more reliable than electronic or touchscreen voting machines. Even if your polling place has electronic or touchscreen machines, paper ballots may be available upon request. Ask polling officials if you can get a paper ballot.
8) If you're using a touchscreen, make sure your choices are correctly registered!
There are reports of touchscreen voting machines incorrectly recording votes or "changing" selections.
Take your time – don't try to enter information until the entire screen has rendered. This is the #1 issue reported with touchscreen voting.
Make sure all candidates are listed – you may have to scroll or chose "More" to see them all.
Check your selections before submitting – Don't hit the final submit button unless they're correct.
If the data is incorrect – Go back and correct it. If you have difficulty, contact one of the poll workers.
If you encountered a problem – Get the word out! Notify poll workers, notify others in line, post on social media, notify the local press.
9) If you encounter difficulty:
Call the voting hotline – 1-866-OUR-VOTE
Notify poll workers
Notify others standing in line
Post on social media
Notify your local press
Thank You for Voting!